Elbow Pressure Balanced Expansion Joints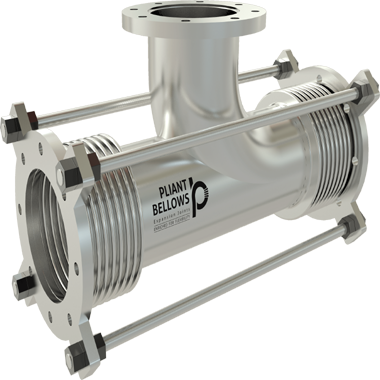 Elbow Pressure Balanced Expansion Joints
Product Code : Elbow Pressure Balanced Expansion Joints
Brand Name : Kwality Products
Our Elbow Pressure Balanced Expansion Joints are mainly designed to absorb externally applied axial movement without imposing pressure on the system. Complete by using two bellows both at line pressure, these joints are used where pressure loading on piping is not required.

Help to move the joint, both the balancing and flow bellows must be compressed in operation and combined with axial force on the piping equipment. To move the bellows of these joints, a low magnitude force is applied which is not objectionable.

The Elbow Pressure Balanced Expansion Joints are mainly installed at the time of change in direction. They are also be designed for line operations. In single Elbow joints, both axial and lateral movements of anchors situated at the end of the piping run. Due to its perfect design, the guide situated directly above the anchor, can be designed to absorb the axial movement forces of the expansion joint. This is the only force imposed on the equipment which is required to deflect the expansion joint.

38/1, Ramtekdi Industrial Estate, Hadapsar, Pune - 411013, Maharashtra, India
Mr. Anand Uttarkar (Partner)