Metal Expansion Joints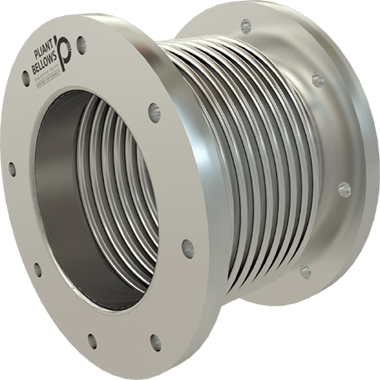 Metal Expansion Joints
Product Code : MEJ
Brand Name : Kwality Products
We provide a quality assured range of Metal Expansion Joints to fulfill all the requirements of industries with a wide variety of applications. We believe that our stern commitments towards the high quality product standards and complete faith in clients feedback makes our metallic joints expansion joints a successful tool .

To design these joints we use ISO-9001 certified design, manufacturing, and testing facility outfitted with the advance technology and our bellows are designed properly according to EJMA 2009 design guidelines. Our professionals have huge experience in producing expansion bellows for pipes, axial as well as lateral hoses and non-metallic expansion joints such as fabric bellow & rubber expansion joints. Therefore, particular application requirements have & will never be a challenging task for us.

We provide wide variety of joints like Expansion joint in heat exchangers which known as a thermal compensator, bellow seal globe valve and Valve bellows for bellow seal gate valve which is used for different sealing application. All these joints are used in transmission applications with zero backlash and high torsional rigidity.

Being a quality centric company, we manufacture these Metal Expansion Joints under the supervision of our experts. After doing extensive research on the particular field, they design these joints by using advance techniques and materials. In our in-house testing facilities, it is tested properly under different parameters before its delivery. In order to reduce human efforts. our majority work right from our work, to bellow design and calculations have been automated which are maintained in-house by our engineers.

As a famous Metal Expansion Joints manufacturers in Pune, Maharashtra, it is our duty to maintain the brand name that sounds with quality, advance technology and customer satisfaction. Rest you can assured that all the flexible piping requirements will be fulfilled with the premium quality products.

The Metal Expansion Joints are a creative alternative option for pipe and pipeline industries. They are applied to the crude oil and gas, paper, pulp, cement plant and sugar plant and also different petrochemical sectors and also in several other fields. The most common application of these joints are to absorb axial movements of a straight pipe between main anchors. These joints are placed near one anchor & guides should be used to make sure proper alignment and movement.
These metal expansion joints are the beneficial portion of the pipeline system. These joints are available in different variety of materials ranging from Austenite series like SS 300 Series (SS304L, SS316L, SS321, etc.) to specific alloys such as Inconel, Hastelloy, Monel, etc. they are also capable of reading and absorbing vibrations generated by compressors, pumps, motor or wind turbines. According to the situation, the axial and/or lateral pass movement and angular movement, can be compensated. Metal Expansion Joints provides a reasonable choice of a pipeline system.


The reason of our quality tested metallic joint is our In- house facility which is equipped with Human Machine Interface (HMI) incorporate Punch forming aka Mechanical Expander as well as Hydroforming Machine. We manufacture this machine to control almost all variable perfectly. Thus, we are able to miniature hydroformed metal bellows used for different valve applications. Also we provide metallic/ non-metallic hydroformed pressure switch bellow for various instrumentation applications. These joints are mainly used in pipeline system that link up pumps & vessels. The design of the structures in the metal joints permits for increased axial, and angular movement. Due to the use of state of the art technology along with the trained engineers we are capable to produce metal bellow expansion joint with long life and with great resilience.

Due to our expertise, we are confident to fulfill all the requirements of industries of almost all level, we request you to send all your queries and our engineers will process the inquiry and will give the quotation and necessary guidance if required. We are always ready and happy to serve you better.


38/1, Ramtekdi Industrial Estate, Hadapsar, Pune - 411013, Maharashtra, India
Mr. Anand Uttarkar (Partner)